By Megan Kelley Hall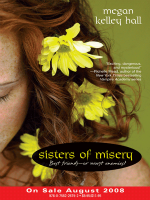 SISTERS OF MISERY looks innocuous, with a colorful cover and FRENEMIES-esque tagline: Best friends – or worst enemies? Don't ignore the title. This is a dark tale, the familiar story of the dark depths in a seemingly charming small town. SISTERS OF MISERY incorporates some supernatural elements, and I expect that that aspect of the story will be expanded in THE LOST SISTER.
Maddie Crane's social climbing mother couldn't be more thrilled that her daughter belongs to the Sisters of Misery, a secret society at the local Hawthorne Academy. Kate Endicott, the leader, is a vindictive girl, spoiled by her family's money and influence over the small Massachusetts town of Hawthorne. Maddie obeys her despite her cruelty until Maddie's aunt and cousin come to live with the family. They're beautiful, bohemian, and outsiders.
Cordelia LeClaire disdains Kate and her crowd, including Tyler – Kate's boyfriend who has a habit of flirting with her. She makes no effort to fit in, and Maddie is swayed by her self-confidence and the fact she's a decent human being. Then something goes terribly wrong. Cordelia disappears and Maddie can only remember half of the night. As Maddie seeks the truth and discovers how far Hawthorne's corruption runs, she finds allies in her cousin's few friends.
SISTERS OF MERCY reaches a satisfying conclusion that resolves many of the smaller mysteries, and one of the larger ones, while still leaving much to the next book. Megan Kelley Hall excels at creating the perfect atmosphere for the story – it's dark and threatening, with a palpable sense of dread. Even before Cordelia goes missing the reader can sense how much Maddie doesn't see about her life.
However, the characters are somewhat shallow. Kate Endicott is Evil. Hannah, Bridget, and Darcy are mostly weak sheep, although Bridget has one very interesting moment. Mr. Reed and Finnegan O'Malley both seem interesting and are likeable enough, but we don't seem enough of either. Actually, most of the characters are interesting. It's just that we only get to know one side of them, which is strange in a book about secrets and deceit.
Some of the plot seems a little bit like a soap opera, but it works. SISTERS OF MISERY feels more like a horror story than anything else, even without the supernatural elements. I do hope they are expanded upon, as I do intend to read the next book, as they feel somewhat superfluous in this one. They add to the atmosphere, but don't factor much into the plot. (They seem to while you're reading, but afterwards you realize very little magic actually occured.)
SISTERS OF MISERY hits the streets on July 29th. You can find out more at Hall's
website
and
blog
.
NEXT WEEK: Fashion week! There will be guests blogs and a giveaway, so be sure to stop by!