Don't forget you can always read more of my reviews
here
.
I'm sorry for disappearing for over a week. I didn't mean to, but that's how things worked out. Now here's the first truly unfavorable review I've posted to this site.
By Jay Asher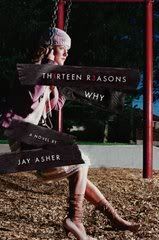 Hype helps and hinders novels. It gets the word out and gets people excited. But it can make people too excited and hold the novel up to unrealistic expectations. I have never heard anyone say anthing bad about this novel. But, while I did like TH1RTEEN R3ASONS WHY in many was . . . In several ways I didn't. I recently told someone that the reread is very important to my internal scale - and I don't believe I will ever reread TH1RTEEN R3ASONS WHY.
Here's reasons why:
1. I like Clay. Clay's a sweetheart, the kind of guy I want to like me. He's easy to sympathize with. When he reaches his tape, I can barely stand it.
My heart doesn't jump. My eyes don't flinch. I don't breathe.
And then.
I snap my arm back, my elbow into the seat. Then I smash it into the door and I want to pound my head sideways into the window. But I pound it back against the headrest instead.
I love this boy and he spends most of the novel needlessly tortured. Hannah, for all she made these tapes to force people to look at what they've done, never examines her own actions . . . which leads me to my second reason.
2. I hate Hannah. She's not just cruel to Clay. She's perhaps most cruel to Mr. Porter. Without context he gets the burden of everything. He's just a high school teacher, not perfect, not even a counselor. Most of the people Hannah blames in her thirteen reasons, she seems to blame after she made her decision to commit suicide. She could have better served the world by telling these secrets openly rather than giving them to a few people after her death so that they can fester.
TH1RTEEN R3ASONS WHY is built around an incredible premise. It's emotionally compelling. The story weaves around itself and pulls together in an examination of unintentional cruelty, unexpected consequences, and some of the darkest sides of human behavior. I found it torturous to read.
Jay Asher is 1/3 of the
Disco Mermaids
. He can also be found on
MySpace
or the
Class of 2k7
. TH1RTEEN R3ASONS WHY is now available in paperback.