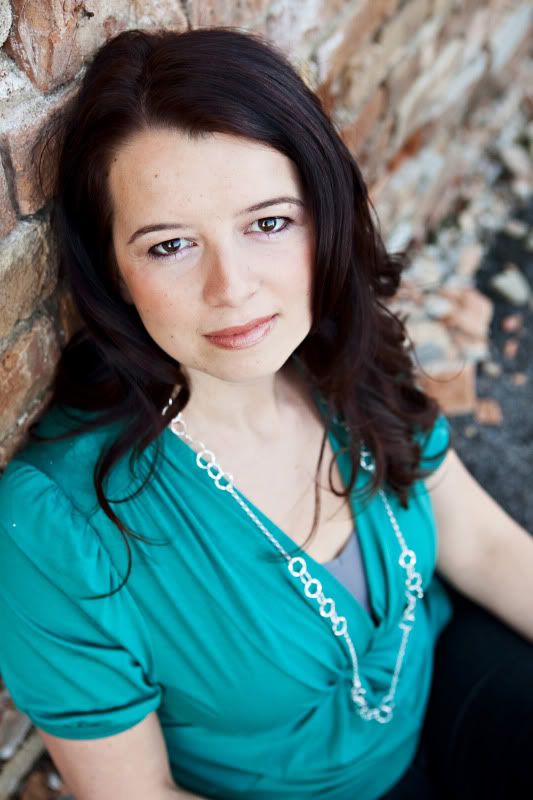 Yay! As of yesterday, I am twenty-one years old.
Today's guest is
Bree Despain
, author of THE DARK DIVINE, which I
reviewed
in January. This is a stop on
The Dark Divine blog tour
, so be sure to stop by
Parajunkee
tomorrow for even more deets on Bree and her impressive debut. The Utah-based author recently revealed the title of the sequel: THE LOST SAINT. I'm already excited about the book and the first one has barely been released!
--
1. What is the strangest thing that happened at a book signing?


The first thing that comes to mind was when a group of fans brought a life-size cardboard cutout of Taylor Lautner to one of my readings and dressed him a feather boa and a purple "Team Daniel" shirt. Except, the person who made the shirt accidentally wrote "Team David" on it, and everyone in the audience was up in arms about it, shouting, "Who's David?" She quickly fixed the sign on the shirt, and the Team Daniel Jacob became a crowd favorite for posing for pictures with.
2. What is the most exciting thing that happened to you since THE DARK DIVINE was published?


My launch party was something that I've fantasized about for the last 10 years, and surprisingly, it turned out even better than I had imagined. I was truly blown away by how many people came, and I got all choked up while giving my book talk. People were so nice and wonderful and made me feel like a rock star for an afternoon.
3. What 2010 releases are you excited about?

HEX HALL by Rachel Hawkins (This book will be my reward when I finishing writing my sequel.)
CRESCENDO by Becca Fitzpatrick
MOCKINGJAY by Suzanne Collins (Want this one like RIGHT NOW!)
THE SCORCH TRIALS by James Dashner
THE CLOCKWORK THREE by Mathew Kirby (I've already read this one because Matt is a good friend, but I can't wait to own my very own hardcopy in October.)
[Ed: Read my reviews of HEX HALL (and enter the contest ending tomorrow), HUSH HUSH, and CATCHING FIRE.]
4. What are some unsung YA books that you like?


THE WAY HE LIVED by Emily Wing Smith (Excellent writing and explores some tough issues.)
THIS IS WHAT I DID by Ann Dee Ellis (This book haunted me for days after I read it.)
5. Do you have a playlist for The Dark Divine?


Yes! I actually think of it as more of a soundtrack because I arranged all the songs in order to reflect the progression of the mood of the book. You can find it
here
.
6. What aspects of your life most affected your novel?

The novel was inspired by three different guy friends who disappeared from my life at different times. In fact, "guys who disappear" is kind of a theme with me. The main inspiration from the book came when I was thinking about the time one of these guys suddenly reappeared at my school for a couple of hours and then vanished again. I always wondered what had happened to him and why he seemed so messed up and troubled. TDD is kind of an exploration of what might have happened if he hadn't disappeared a second time.
7. If you weren't writing, what would you be doing?

I have a secret desire (okay, it's not that big of an actual secret) to be an Egyptologist. I someday dream of getting to participate in a dig over there. It's totally on my "bucket list."
8. Who do you find inspiring, in your personal life or as a writer?
As a writer, I find Virginia Euwer Wolff to be inspiring. I met her at a time in my life when I was struggling with my confidence as a writer and whether or not I would ever be published. She told me that she went through the same doubts and discouragements in her life, and then she also told me that I was too good of a writer to ever settle for anything less than reaching my dream of becoming a nationally published author.
In my personal life, I find my hubby to be a huge inspiration. He's hard working and extremely supportive. He always believes in me—even in the moments when I don't believe in myself.
--
Contest:
I have three bottles of THE DARK DIVINE purple nail polish to giveaway. One bottle will be an instant win - the first person to post a comment with their e-mail address gets it. The second two winners will be announced on March 31.
To win, leave a comment answering one of the questions I asked Bree. For a bonus entry, post/tweet/etc. about the contest.