Let's welcome the final Fashion Week guest author. In addition to writing the Violet series, she has worked for ELLEgirl and Seventeen. We've had blogs about swimsuits and bags, and now Melissa Walker is going to tell us about a true style icon.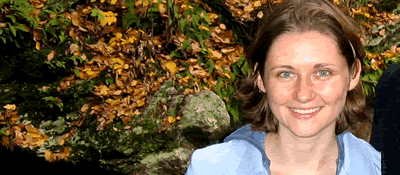 --
Melissa Walker on "Fashion People"
Sometimes my friends ask me what it's like to be around "Fashion People." Like designers and models and stylists and editors are some alien life form. And, okay, sometimes they act like it. My favorite "fashion people" are a little bit volatile, slightly catty, and always unpredictable. Razor sharp wit softens a bit when you add in a dash of brilliant creativity.
A fantastic representative of the quintessential "fashion person," in my mind, is Little Edie Beale. The cousin of Jacqueline Bouvier Kennedy Onassis, Little Edie lived with her mother (Big Edie) in a house called Grey Gardens in East Hampton, NY when the Maysles brothers filmed a documentary of their lives called, appropriately, Grey Gardens.
The two of them lived in a 28-room mansion off the water, where the gardens grew to cover the house and cats ran wild with raccoons in the attic.
It is a must-see film for anyone interested in fashion. From scarves wrapped into head-dresses and pinned with diamond broaches to skirts made from towels, Little Edie's style is all her own (and has inspired several fantastic fashion shoots, including this one from Vogue:
http://greygardensthemusical.com/vogue/vogue.html
).
Not just a fashion icon, but also a philosopher queen, Little Edie says the most wonderful things. One quote in particular, I think, is particularly fashion-worthy. She's reminiscing on the days when she was engaged to a Kennedy brother herself, the days when she was known as Edie "The Body" Beale. Then she looks off in the distance and quietly says, "It's very difficult to keep the line between the past and the present. You know what I mean? It's awfully difficult."
Little Edie is a quintessential fashion person, and she's my personal definition of crazy beautiful. Watch the movie, give it a shot, and let her inspire your whimsy.
Oh, and Drew Barrymore's doing a remake (
http://justjared.buzznet.com/2007/10/23/drew-barrymore-grey-gardens/)
—but watch the original first if you can!
--
Don't forget to comment on this post for a bonus entry to win VIOLET IN PRIVATE, Walker's latest novel. Walker will be hosting a release party for VIP on her
blog
next week.