The contest winners are:
HOW I FOUND THE PERFECT DRESS - Bishiesruleme
THE ELITE - Marjolein
VIOLET IN PRIVATE - Mari
Thanks for participating! Please e-mail me (inbedwithbooks AT yahoo DOT com) with your shipping address within 72 hours. If you do not contact me within that time new winners will be chosen.
Please go to the
archives
of my radio show to listen to an interview with Cynthia Leitich Smith. It's full of all sorts of goodness, including information about the upcoming ETERNAL and BLESSED.
By Mary Burton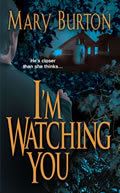 Lindsay O'Neil survived her father's abuse. He killed her mother and then himself, but she managed to survive and begin a sheltered for battered women. But now someone calling himself 'The Guardian' is threatening that. He's killing abusers in her name and sending her their severed hands. To complicate matters, her estranged husband Zach Kier is one of the lead detectives investigating the case.
She and Zach separated due to his alcoholism, fueled partly by his work as an undercover vice cop. Zach managed to get clean, but Lindsay is still wary of renewing their relationship. His partner Jacob Warwick believes he'll return to drinking as well and treats him rather brusquely.
Lindsay works with the cops to catch the killer, but she also tries to continue protecting battered women – including her secret roommate Nicole Piper. Unfortunately, some of those women are suspects. Even more unfortunately, Nicole's husband is looking for her. I liked that Lindsay both had a reasonable motive for not cooperating completely with the police and didn't go looking for the killer on her own. She trusts them to do their job.
I likewise enjoyed Mary Burton's portrayal of Zach. An alcoholic is easy to make unlikeable. But I know many undercover narcotics cops do have substance abuse problems, and he made the effort to change his lifestyle and get clean. Lindsay's decision to kick him out wasn't the best possible, but it makes sense given her background of abuse.
Some scenes in I'M WATCHING YOU are rather violent, but I don't think Burton revels in the gore as much as some suspense writers. Children (teenagers) are hurt during the course of the novel, which I know bothers some readers. There are many references to and scenes of abuse that might not be palatable to those close to the subject. Nothing in the story bothered me, but it does tread close to issues that bother some people (often with good reason).
Burton develops an interesting serial killer who is all the more disturbing because his motives are altruistic. I'M WATCHING YOU plays well within the conventions of the genre and possesses the favorable characteristics of a non-jerk hero and a thinking heroine.
You can find more information at Mary Burton's
website
. I'M WATCHING YOU is available now. The follow-up, DEAD RINGER, will be available in November.
My review copy was courtesy of Pump Up Your Book Promotion.