Sorry for leaving my last review unfinished for nearly a week. I've now posted the rest of the text.
By Beth Kephart
If UNDERCOVER were a movie, I would say it's a slice of life story. You both start and end in the middle of things, but it's still satisfying. Intelligent Elisa may not be conventionally pretty, but she walks in a world of beauty. She appreciates the outdoors and uses the nature around her to inspire poetry. In turn she gives this poetry to male classmates to aid them in attracting the girls they like. The person who taught her to pay such attention to nature, her father, is away in San Francisco. Her parents' marriage might be falling apart.
Elisa's at a crucial point in discovering who she is, but she's floundering. She's closer to her father and her sister is closer to their mother, but now her father isn't readily available. Her crush Theo is dating the possessive Lila, whom Elisa helped Theo woo. Luckily, she discovers those close to her are allies even when their relationships are strained. She's also encouraged by her English teacher, Dr. Charmin, who recognizes the potential in Elisa's poems.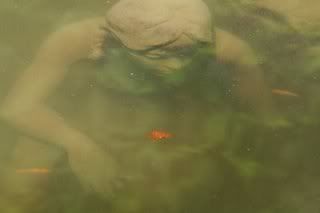 As with any good slice of life story, UNDERCOVER works because reader's can see elements of their own life in Elisa's, even when the two diverge. I used to skate, although never outdoors and never over a permanently drowning girl. (I do live in Texas. Outdoor ice skating just doesn't work.) During my parents' divorce, my mother used skating to deal with her emotions. The scenes of Elisa skating on the pond, which are numerous, resonate with my own experience.
Likewise, I never had a teacher quite like Dr. Charmin. But I did have wonderful English teachers. I remember reading poetry and plays aloud in class. Of course, the only emotions I was ever overcome by were embarrasment and humor. (Deimyts and I read the two main characters of WAITING FOR GODOT. My character started asking his whether he ever hung himself, because it would give him a boner. Very startling. We also read two characters in a shorter Polish play titled THE UNVEILING. His character began to show another character how to properly seduce a woman - my character. This is the sort of stuff you need to be prepared for! These lines creep up on you!)
One of my biggest quibbles with most books set in high schools is the fact they never seem like any high school I ever attended. But Beth Kephart writes characters I could see myself knowing, in situations I could see happening. And she does it with beautiful language. Elisa's voice has a steady flow and Kephart uses elegant imagery. I hope UNDERCOVER not only pulls readers into Elisa's world, but pushes her world out into theirs and encourages them to read some of the prose and poetry mentioned within the story. (Believe me, it's worth reading.)
Beth Kephart is also the author of HOUSE OF DANCE and the upcoming novels THE HEART IS NOT A SIZE and NOTHING BUT GHOSTS. She can be found on her incredible
blog
, which has beautiful words to match beautiful photos. I loook forward to her future releases.