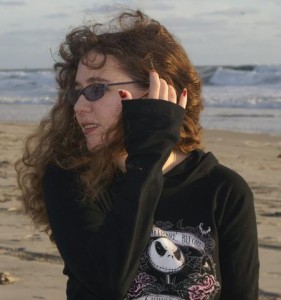 I doubt
Melissa Marr
needs much introduction. She's the author of the popular
Wicked Lovely
series, the fourth book of which -
RADIANT SHADOWS
- I reviewed earlier today. You might want to check out her lj, linked above, which has the details of two live chats she's participating in this week . . . plus links to the free e-copy of WICKED LOVELY.
--
1. Did you expect the popularity of the Wicked Lovely series? Did success affect your writing process?
To be honest, I had
no
expectations. I wrote a short story (in 2004) that lingered in my mind, so (in 2005), I turned that short story into a novel. At that time, there was no YA paranormal boom; TWILIGHT hadn't even released when I wrote WICKED LOVELY. So, I had no indication that there was a readership for a YA-romance-urban-fantasy-crossover.
By the time WL hit the shelves, I was already writing what turned out to be the core of the 3rd book in the series, so . . . no, it hasn't really been a factor for me. By the time it could've been an issue, I was revising the 2nd book and writing the 3rd book, and by then I was so far into the world to notice much of anything. The major way the exterior world impacted the books was in the amount of time tour and conferences took time away from writing, so I had to learn to write in airports and hotels too.
The one thing that
has
been a little unnerving was re-visiting the first book for the film while I was writing the 5th book. A few times that really tripped me—especially as an image I used in the fifth book (DARKEST MERCY) was one the screenwriter (Caroline Thompson) came up with to add to the first book. It was an eerie similarity, but I'm a believer in Universal Order so I took it as a good sign.
2. You made your adult fiction debut with "Two Lines" in the UNBOUND anthology last August. Do you have any more plans for adult fiction or are you going to keep writing YA?
I think my directions are entirely dependent on the stories I need to tell. "Two Lines" (and a couple other short stories before it in semi-pro mags) had to be adult; GRAVEMINDER (my debut adult novel, tentatively set for early 2011) had to be adult. I'm not migrating to adult or leaving YA; without spilling details, I can say with certainty that there will be more YA from me. I have short stories in TEETH (a YA folklore-based vampire antho), NAKED CITY (an adult urban fantasy antho), and another adult urban fantasy antho. I like short stories, but there are both YA and adult novels in my future too.
3. I am very excited about the Smart Chicks Kick It tour, since it starts in Austin and Houston (so I should be able to attend 1-3 days) and features some awesome, well, smart chicks. How is a large tour like this organized?
I'm not sure how it
should
be done, but in this case, it's been a bit random. In 2008 and 2009, I did a few events with authors whose books I liked (including Kelley Armstrong). I had fun, and then, honestly, I just get urges to try something new. Organizing a giant tour was new, so I started asking authors I knew my readers liked or thought they would like. From the start, Kelley, Holly, & Cassie were involved. A few months in, we invited Alyson. Then, we started adding more and more people--so much so that the original plan of 6 cities in 6 nights has evolved into 12 nights in 11 cities and twice as many authors as I had proposed. I've done 3 tours and a bunch of other events, so I emailed a few booksellers I knew, and they all said "oh yes!" Kelley started an online presence. More stores invited us. So, in one way, "organizing" is probably the wrong word. It grew waaaay beyond my organizational goal. So, Kelley and I talked, decided we were going to become crazy without help, and proposed that we hire a publicist to handle the details. We suggested the idea of a publicist to the group; they agreed. Kelley and I still do the bulk of the organization-coordination-with-authors, but Media Masters took over working with the stores. Then, various Smart Chicks have taken on things like website, Twitter, swag design, etc. I'm sure there will be snags, but it's new and a challenge, so IMHO, it's all good fun.
4. What media influenced your writing? What were your favorite things to read (or watch) as a kid?
I didn't (and still don't) watch much TV or film. We had a television, but we only had 2 channels. On the other hand, the library had
thousands
of books. There was never a contest for me. I remember watching the
Wizard of Oz
, Yogi Bear, football, boxing, the Muppets, and the local news. I'm sure there were other things I watched, and I know we went to the movies sometimes and one of our family friends had a VCR. Then when I was in high school, we got a VCR. I remember watching
Blade Runner
, the original
Star Wars
movies,
Indiana Jones
, anything with Clint Eastwood, and all of the James Bond movies. I'm not sure how any of those influenced me beyond an appreciation for the fantastic. In high school and college, I went to movies on dates, but that was rarely for watching the movie. By grad school, I didn't watch much of anything other than boxing, Buffy, or soccer. These days, I watch documentaries (with my son) and Vampire Diaries (with my daughter).
Books, however, were definitely an influence. I grew up with fairy tales, folklore, Shakespeare, Chaucer, Rossetti, bags of paperback romances and SFF from yard sales and the flea market, boxes of mysteries and philosophy from my uncle, and stacks of library books. I learned to read before I started kindergarten, and once I knew how, I read daily (still do). My omnivorous reading choices continue now, too. As of this moment, my nightstand has a stack critical articles from
Folklore
journal, two romances, a fantasy novel, a horror novel, 2 YA, 1 MG, and a picture book.
5. Do you ever have trouble making deadlines? Are there any scenes or characters you've had particular trouble with?
*grin*
I'm a bit of a workaholic. I've turned every novel in ahead of deadline. DARKEST MERCY (WL #5) isn't due until July 2010 (it's in my editor's hands already); GRAVEMINDER was due in December 2009 (I turned it in November 2009); and RADIANT SHADOWS was due in June 09 (I turned it in February 2009). Part of it, honestly, is that in contracts I ask for deadlines later than I expect to need, so if I have any crises, I already have emergency time in the schedule. I work far in advance of deadline—generally starting books 2 years ahead of due dates. It's a little neurotic, but I'm old-fashioned on this topic: if I say I'll do it, I'll drive myself to the ground doing it. (And I expect the same from those in my personal and my business life.)
Struggle scenes . . . Leslie's hazy addicted period in INK was hard to write emotionally; Ash's grieving in FRAGILE was frustrating to write (I wanted her to toughen up, but that would've been imposing
my
approach to stress, rather than letting her be her); and one scene in RS and another in MERCY (which I can't say for spoiler reasons—but both made me weep). It's less about the story than my discomfort with lingering on the vulnerable moments. I'm very blunt, but I'm also inclined to be private with the tender emotions. That makes it hard for me to dive into them to write them. My family knows if someone is about to experience any tear-causing-event because I get intense urges to do
anything other than write
then.