By Marissa Doyle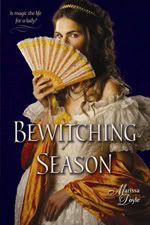 Persephone and Penelope Leland hide their talent with magic from everyone, including their parents. Now their governess Melusine Allardyce has disappeared, leaving only a note saturated with her fear. Persy must take action if she wants rescue Ally – and Princess Victoria. A political faction seeks to control the soon to be eighteen-years-old princess in order to keep control once she becomes queen. But finding Ally might put Persy and Pen in the faction's power.
BEWITCHING SEASON is a light-fantasy historical adventure. The only thing that ruins the atmosphere is Persy and Pen's almost complete disregard for keeping their powers secret. They use them in front of a number of maids and young men. One of these young men is Lochinvar Seton, Persy's love interest. Lochinvar is well-read and liked by Persy's family, and paid attention to her before she became an attractive and desired young lady. For some reason obstacles to their romance keep cropping up.
I'm serious. Ridiculous obstacle after obstacle that looks less ridiculous in comparison to the new obstacle. I would have preferred it if Doyle simply let Lochinvar and Persy acknowledge their feelings, become a couple, and let the book's romantic plot focus on them maturing their relationship and getting to know each other past, "You like books? I like books too." Instead, she squanders their chemistry by keeping them separate for increasingly ludicrous reasons. (See, I dislike the handling of the romance so much I'm becoming redundant.)
In the end, the mishandling of the pace of the romance does not bog BEWITCHING SEASON too much. (In fact, I'm looking forward to the sequel for which Doyle is already contracted.) It's a frothy read, perfect for the modern American girl's summer season. Pick up a copy for reading during that wonderful extensive free time.
Something else: I rather like the twins' little brother. He's a darling and his crush on Victoria is too cute for words. Lorrie, Ally's younger sister, is also quite excellent. I love how they're both talented individuals, but their families tend to miss it since they're the youngest. I liked the other characters as well, but they are my favorites.
BEWITCHING SEASON came out last month. More details are available at Marissa Doyle's
site
. Doyle also co-writes a beyond awesome blog,
NineteenTeen
, about being a teen in the nineteenth century. A signed copy of BEWITCHING SEASON will be given away on that blog next week.