By Caroline Linden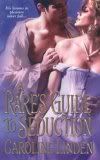 I won an ARC in this novel through a contest at
Dear Author
. I must say I love those ladies for giving me the chance to read this book. Between the title and the blurb (neither of which describe the book very well), I never would have picked it for myself. But Jayne's favorable review and the chance to read it for free moved it up on my list.
One of the best parts about reading A RAKE'S GUIDE TO SEDUCTION were the many parts where Linden had a chance to include a Big Misunderstanding or other ridiculous contrivance and didn't. Instead she delivered a believeable and sweet romance.
Well, that is except for two short and bizarre subplots at the end. Those could have easily been cut because they didn't even further the main plot. They were just there and completely unlike the rest of the book.
What the rest of the book is, is the slow build of a relationship from quasi-friendship to love. Anthony first saw Celia as a woman four years ago, but he was too late: she already agreed to marry Lord Bertram. However, she marries too hastily and she and Bertram's marriage slowly dissolves. Then he dies, leaving her a widow and a shell of her former self.
Celia's mother hosts a party to revive her spirits; David, Celia's brother, invites their mutual friend Anthony. He eventually admits he's still attracted - perhaps in love - and begins to subtly court her.
Despite being known as a rake, Anthony is a decent man who made his fortune on his own, if in a creative manner. He respects Celia and doesn't succumb to the jerk factor present in many alpha-male romance heroes. Celia starts a bit silly, but she matures during her unhappy marriage.
Quick and entertaining, A RAKE'S GUIDE TO SEDUCTION is a fabulous Regency saddled with an awful title. The official on-sale date is June 3, 2008. You can find out more at Caroline Linden's
site
.
Next Review: Wicked Game by Jeri Smith-Ready.