By Sarah Dessen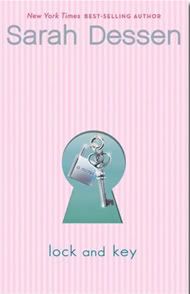 Sarah Dessen is one of the best young adult authors today. While not one of my favorites, I enjoyed several of her books and JUST LISTEN earned a place on my keeper shelf. LOCK AND KEY just may join it. Ruby and her mother lived together, moving periodically when they could no longer pay the bills. Long ago Ruby's older sister tired of the life and left for college. Now Ruby's mom has left as well and she's barely managing on her own (not that she will admit it). However, she cannot keep it secret forever and her landlords discover the truth. Cora, her older sister, and Jaime, Cora's husband, take her in. Turns out they're well off since Jaime founded UMe.com (a site similar to Myspace or Facebook).
Ruby slowly adjusts to her new life. She makes friends with Olivia, another girl at her new school from the wrong side of the tracks. She works for the neurotic Harriet, whose business is just beginning to take off. And really, she's just friends with her next door neighbor Nate. Really. As Ruby accepts that her life has changed for the better, she also realizes the Nate could use a few changes in his. But like her he does not want help.
Dessen's books are not packed with action or vampires. There's humor, but they aren't funny books. She writes quiet stories of normal teens struggling with their lives. Well, maybe 'slightly glamorous' would be a more accurate description than 'normal.' Despite this, her best books are never dull. They are interesting, lived in, and pass for quicker than their 400+ page count would indicate. Dessen delivers solid novels that appeal strongly to teens and somewhat to their parents. (My mom hasn't read LOCK AND KEY yet, so I do not know her verdict on this one.)
I think my favorite part of LOCK AND KEY is Olivia. She's prickly, but she has a good heart, as evidenced by her relationships with Ruby and Gervais. She delivers some of the best lines in the book and every scene containing her is especially lively. I liked her even more after Gervais's surprising announcement to Ruby. (It surprised me more than the revelation about Nate. I saw that coming from a mile away.) I also like Cora and Jaime's relationship – not perfect, but their fights weren't overly done. It seemed like a happy, lasting marriage, but a real one rather than Disney-style.
LOCK AND KEY is available now. While Dessen's tour was quite limited, one of my local Borders had a signed copy so ya'll might want to check the shelves. (Readers in Sugar Land – I did not buy it so you might want to head out now.) You can visit Dessen at her
website.
Coming tomorrow: review of JANEOLOGY by Karen Harrington.