First, I am hosting a radio show on
Passionate Voices Internet Radio
. The first show is the Sunday, May 11 at 8:30 EST and lasts thirty minutes. If you can't tune in live a recording will be available on the site. I'm interviewing Cynthia Leitich Smith and hopefully Vicki Petterrson, if the time works with her schedule.
Second, I guest reviewed for
Imperial Beach Teen Blog
. Check out my reaction to TANTALIZE by Cynthia Leitich Smith.
Now for the May Contest!
I am giving away two ARCs. If you like Ellen Schreiber's Vampire Kisses, here's your chance to read the newest release before it hits shelves and win two collector's items. I'm offering the ARC of both the fourth and fifth books, DANCE WITH A VAMPIRE and THE COFFIN CLUB.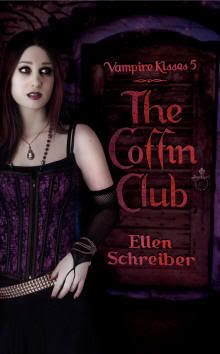 To win, comment on this entry or e-mail me at inbedwithbooks AT yahoo DOT com. Earn one extra entry by blogging about the contest (and giving me the link) and earn another by commenting on any of my May entries. Earn a third extra chance by listening to the radio show and leaving a relevent comment about it on this post.
Contest ends midnight (Central) on May 31st.